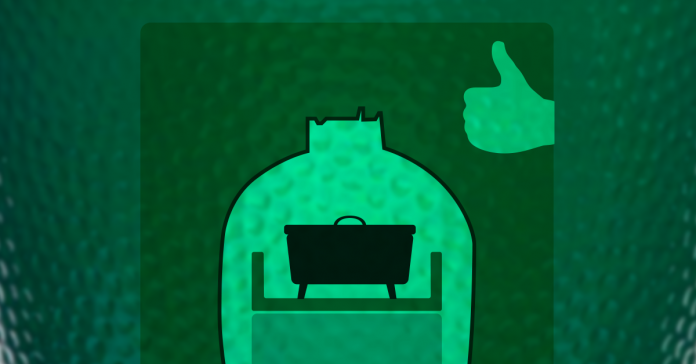 Why Get a Cast Iron Dutch Oven?
A cast iron dutch oven is a must have for any Big Green Egg fan.  Having a dutch oven opens up a world of delicious possibilities and closes the gap between the kitchen and the Big Green Egg.   Now that delicious smoke flavor and the essence of hardwood lump charcoal can enhance many a common dish.   Old dishes become new and good dishes become great!
One of our favorite dishes to make in a cast iron dutch oven is smoked chili.  One of the keys to good chili is to simmer over low heat for several hours allowing the flavors to meld. Preparing the chili in a Big Green Egg brings a whole new dimension to the chili.  Other common dishes that can be prepared in a dutch oven include (but certainly are not limited to) soups, sauces, risottos, casseroles and cornbread.
Things to Keep in Mind About Dutch Ovens and BGEs
When selecting a dutch oven for use in the Big Green Egg there are a few things to keep in mind
Big Green Egg Configuration, Airflow and the Dutch Oven
One critical aspect of using a dutch oven in a Big Green Egg is to ensure that air can flow all around the dutch oven – including underneath.  All Big Green Egg enthusiasts are fully aware that airflow is critical to the success of any cook.  Air is fundamental to cooking in the Big Green Egg.  It's very important to allow air to flow around and under the dutch oven when placed inside the Big Green Egg.   When picking out a dutch oven its important to pick one that works with the available configuration options.
Have a Platesetter?  Get a Dutch Oven with Legs (Recommended)!
Using a platesetter to hold the dutch oven to cook is a common practice.  Most Big Green Egg owners already have a platesetter for use in indirect cooking methods.   When using a platesetter it is important to use a dutch oven that comes with legs, sometimes referred to as a camp model, that allows the air to get under the dutch oven.  If the dutch oven were to sit directly on the platesetter during a cook the dutch oven would get much too hot.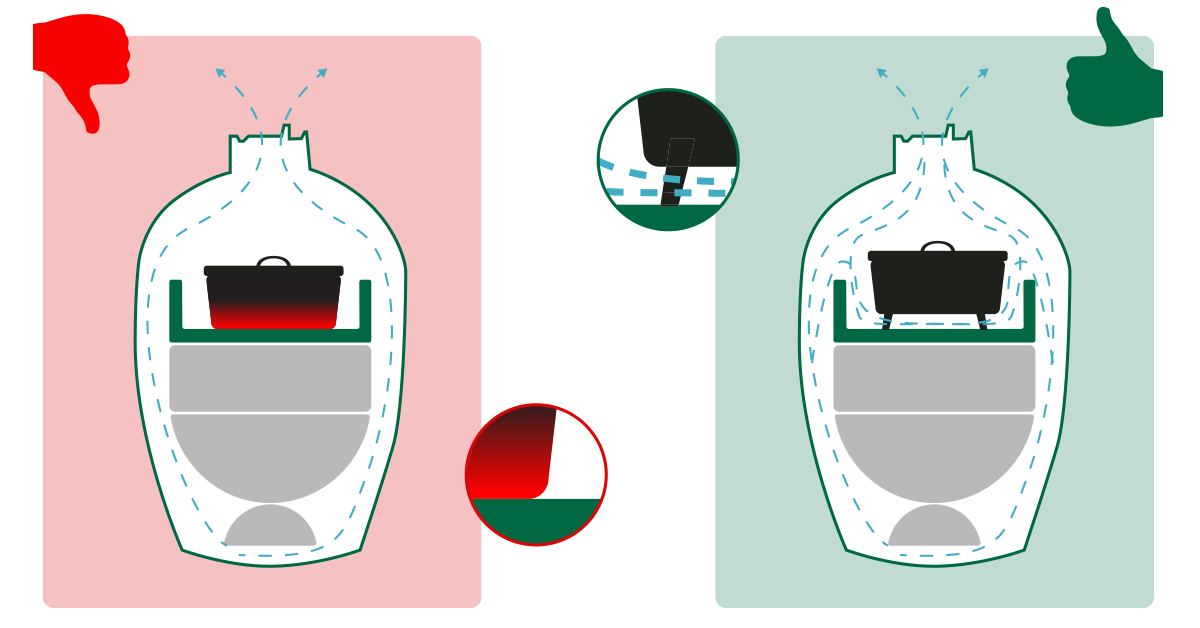 No legs on the Dutch Oven? The Cooking Grid Works.
If you already own a cast iron dutch oven without legs then certainly a viable option is to use the cooking grid.  Many popular dutch oven manufacturers (in particular the enamel coated variety) don't provide legs as an option.   As such an alternative to legs must be utilized and it can be done as simply as placing the dutch oven on the cooking grid.
There are a couple of things to keep in mind using this technique.    The dutch oven will be higher if sitting on top of a cooking grid that is on top of a platesetter for indirect heat.  This will limit the maximum height of any dutch oven that can be used.   Think about how much space there is between the dome and the dutch oven when the dome is closed.   As mentioned the Big Green Egg requires the air to be freely flowing without obstruction.   Another down side to using a cooking grid with a legless dutch oven is the increased amount of surface area contact that occurs between the dutch oven and the cooking grid.  This could cause the dutch oven to get too hot and must be monitored carefully to ensure food preparation expectations.  A dutch oven that gets too hot is something to watch for especially if the Big Green Egg is configured for direct cooking (no platesetter).
When you Need the Grid Option to Work Well…
If relying on a cooking grid to use a dutch oven we would suggest investing in an adjustable grid that provides more flexibility than the standard cooking grid.  Included in this adjustable rig is a spider that will hold a dutch oven, pizza stone, or wok.  The spider holds the dutch oven lower than a standard cooking grid and reduces the amount of actual grid that touches the dutch oven.   The result is more inline with using a legged dutch oven on a platesetter.
Shape Matters – and that Shape is a Circle!
Cast iron dutch ovens come in all shapes.   But the Big Green Egg comes in one shape and as previously mentioned one of the key components of The Big Green Egg is airflow.  When picking out a dutch oven for use in a Big Green Egg it's important to be mindful of how airflow will be effected.   So the shape of the BGE helps to narrow down the selection of the ideal dutch oven to something that is circular.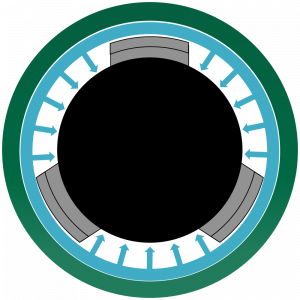 Size, on the other hand, will vary on the size of the Big Green Egg.  It is important to keep in mind the total height of the dutch oven and where the dome is when closed.     A dutch oven must allow the air to flow around the sides and up through to the dome ensuring never to obstruct the airflow when the dome is closed.
Is Enamel Coating Worth it?
Cast iron cookware of all types require some method to protect them from rust and natural occurring affects of being constantly exposed to oxygen and water.  Without protection the cast iron dutch oven will quickly rust and food will begin to stick while infused with an undesired metallic flavor.
There are two primary methods of protection – enamel coating and seasoning.
Enamel Coating
Pros:
Easy to maintain and care for
Comes in a variety of colors
Polished appearance
Cons:
Much more expensive
Requires replacing if enamel chips
Abrasive cleaning utensils not recommended
Seasoning
Pros:
Much less expensive
Abrasive cleaning techniques okay prior to re-seasoning
Cons:
More involved maintenance and care
Limited color and appearance options
Soap should be avoided to protect the seasoning
Cast iron pots and pans that do not come with an enamel coating require being seasoned.  The enamel coating of a cast iron dutch oven does not directly effect the food prepared within.   The benefit of getting an enamel coated cast iron dutch oven is largely attributed to ease of maintenance and appeal of appearance.
One common misconception is seasoning cast iron cookware is a difficult and time consuming process.  However the process to season cast iron cookware is straight forward and simple and shouldn't factor much into the dutch oven purchasing decision.
Cast Iron Dutch Oven Recommendations