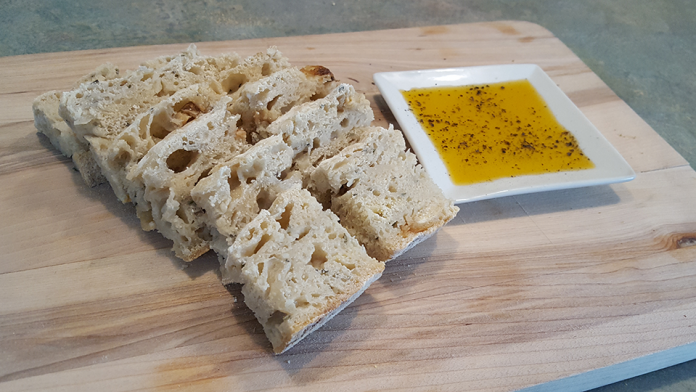 Watch as we crank up the Egg and bake a loaf of Roasted Garlic and Rosemary bread. This will make the house smell wonderful for days.


Recipe
5 whole garlic bulbs
2 Tbs. olive oil
2 Tbs. chopped fresh rosemary
2 Tbs. dry active yeast
3 cups warm water (~110°)
5.5 cups bread flour
5 tsp. kosher salt
1 Tbs. cornmeal
Roast the Garlic
Preheat the oven to 450°.
Peel off the outer layers of the whole garlic bulbs ensuring to keep them intact.
Chop off the top third of each bulb exposing each garlic clove ensuring to retain the other two thirds inside the bulb.
Cover a cookie sheet in aluminum foil and place all of the garlic bulbs on the cookie sheet.
Drizzle the olive oil over the garlic bulbs.
Cover the bulbs in another sheet of aluminum foil and bake for 45 minutes.
Let cool.   Extract the garlic from the bulbs using either a fork or squeezing out with your fingers.
Mix the Dough
Add the yeast to a large container.  Add the water to the yeast and mix well.  Let rest for 5 minutes.
Add the flour, salt, roasted garlic and chopped rosemary and mix thoroughly.   The dough will be very wet and sticky.   Cover with the container cover or plastic wrap and let rise for 3 hours.
After the bread has risen place in the refrigerator for 24 hours.
Prepare the Egg
Configure the egg to bake bread by including the platesetter, a cast iron skillet (to flash steam some water ), the cooking grid and a pizza stone.
Preheat the egg to 500°.
Time to Bake
liberally cover your hands and working area with flour.  The dough will be wet and sticky.
On a pizza peel place a sheet of parchment paper and sprinkle with cornmeal.
Take the dough from the refrigerator and, using your hands, form into a round loaf on the parchment paper.
Dust the loaf with a little extra flour.
Place the loaf inside the Egg and pour a cup of water into the heated skillet to generate some steam.
Bake for a total of 30 minutes flash steaming every 10 minutes.  The steam will help create a nice crispy crust on the bread.
Allow to cool 20 minutes before cutting.
Serving suggestion:  slice up the bread and dip in a mixture of extra virgin olive oil and freshly ground pepper.